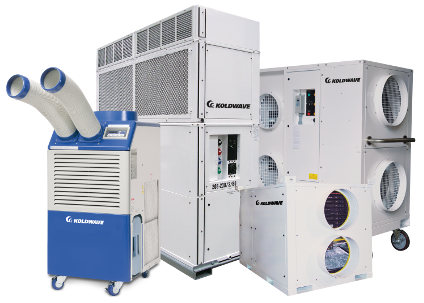 Commercial Financing Available, Apply Now
KOLDWAVE PORTABLE SPOT COOLING APPLICATIONS
Like You, Koldwave Stays Cool Under Pressure
Regardless of whether it's for new construction, renovations, or an unforeseen situation, your customers are looking for solutions that address a variety of portable spot-cooling applications. So it's important to have the right fleet of water-cooled and air-cooled systems for your business and customer base. Having the best line-up of systems at your disposal ensures you can address the unique range of portable spot cooling applications your customers will throw at you.
As a leading solution provider for portable spot cooling applications, Koldwave has the experience and product breadth to ensure you have the right air-cooled and water-cooled air-conditioning systems for your business and job-specific applications. Simple to move, install, and operate, our rugged yet quiet units can be used for temporary, spot, emergency, or supplemental cooling in a variety of settings. Working with you, we can determine what models make the most sense for you and your customers, as well as provide smart recommendations for growing your temporary spot cooling business. In addition, our U.S.-based sales and service team is on call to ensure everything remains business as usual, providing you with free, ongoing technical support and prompt resolution if a problem ever occurs.
Server / Telecommunications Rooms
Elevator / Mechanical Rooms
Light-Industrial / Factories
Commercial Spaces / Offices
Industrial Kitchens
Hospitals
Automotive Garages
Outdoor Events
Apartments
For help determining which Koldwave water-cooled and air-cooled air-conditioning units best fit your unique and specific portable spot-cooling applications, call 413-564-5520 or contact us directly.
When unexpected situations, new constructions, or revonvations call for temporary spot cooling, Koldwave's reliability ensures your customers' working environments stay comfortable.
Temporarary Solutions, Long-Term Support
Koldwave has the product breadth, technical understanding, and market knowledge to spport the needs of your customers and the growth of your business.