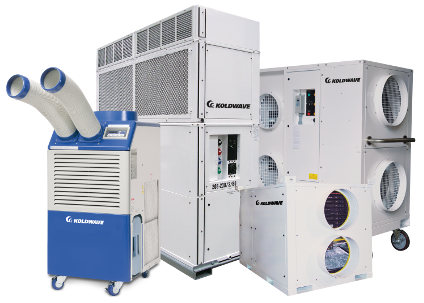 Commercial Financing Available, Apply Now
Koldwave Air-Cooled/Water-Cooled Portable Air Conditioning, Dehumidification and Heating Units
Providing Businesses with Quality Solutions for Temporary Spot Cooling Applications
Rugged. Reliable. Responsible. These are the qualities your customers demand for their temporary spot cooling challenges. So meeting these expectations is vital to your reputation, and your business. That's why they're also the qualities found in every portable air- conditioning system we sell. Koldwave spot cooling units are among the industry's most rugged, designed to take all the abuse your customers dish out. Simple to set-up, our units stand up to any challenge-all the time, every time-giving your customers 24/7 reliability, and your business 24/7 customer repeat-ability.
With more than 60 years of experience, Koldwave is an industry leader in reliable portable spot cooling solutions. We're dedicated to providing the right temporary air-conditioning solutions for your business's fleet or job-specific applications. We offer a full spectrum of air- and water- cooled portable air conditioning units that can withstand the rigors of the toughest commercial setting, yet are quiet enough to supplement cooling in an office or residential space. Our industry expertise and insights will help you determine the right range of units for your business needs, and our knowledgeable technical service and support team will keep you and your customers operations up and running
Like you, our air-cooled and water-cooled portable air-conditioning units don't stop until the job is done, which is why Koldwave is a permanent part of your temporary spot cooling solutions.
To learn more, call 413-564-5520 or contact us directly
When unexpected situations, new constructions, or renovations call for temporary spot cooling, Koldwave's reliability ensures your customers' working environments stay comfortable.
Temporary Solutions, Long-Term Support
Koldwave has the product breadth, technical understanding, and market knowledge to support the needs of your customers and the growth of your business.